Zone 0: A New Urban Ground
Team Leaders: Stephen Cassell, Adam Yarinsky, Architecture Research Office
Susannah Drake, dlandstudio
Site: Lower Manhattan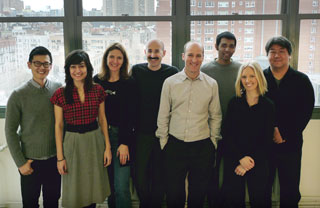 Architecture Research Office Firm Profile
Stephen Cassell and Adam Yarinsky lead the New York City design firm Architecture Research Office (ARO). In every undertaking, ARO seeks to elevate the value of our physical and social world. ARO recognizes that architecture participates in a complex web of physical and social relationships that can be fully understood only through experience. Driven by research and investigation, the firm's design process creates architecture that is sensuous, intellectually rigorous, and socially engaging.
Architecture Research Office has built around the country and worked with a client list that includes leading universities, arts institutions, major financial institutions, government agencies, and international fashion labels. The firm holds Design Excellence Contracts with both the New York City Department of Design and Construction and Department of Parks and Recreation. Architecture Research Office's notable projects include Five Principles for Greenwich South, a strategic planning study with The Alliance for Downtown New York (2009); the School of Architecture Addition at Princeton University (2007); the Susan P. and Richard A. Friedman Study Center at Brown University (2007); the Prada New York Epicenter Store, designed with Rem Koolhaas/OMA (2001); and the US Armed Forces Times Square Recruiting Station (1999).
ARO has won design competitions for Detroit's Motown Center (2003), the Weston Performing Arts Center (2004), and The History Channel's City of the Future: New York, 2106 (2006). A two-time Finalist for the National Design Award for Architecture, ARO is a 2010 recipient of a P/A Award for Urban Design and an AIA Institute Honor Award for Regional and Urban Planning. Among the firm's numerous awards are two AIA Institute Honor Awards for Interior Architecture, three American Architecture Awards, and an Artist's Fellowship from the New York Foundation for the Arts. A selection of the firm's work appears in ARO: Architecture Research Office (Princeton Architectural Press).
The firm is currently at work on a range of public and institutional projects. Among these are a renovation and expansion of New York City's Union Square Park North that will restore the historic pavilion for use as a restaurant and introduce a new building to visually anchor Park Avenue South. ARO's Donald Judd Home + Studio museum will transform 101 Spring Street, the sculptor's former home, into a museum and arts education center. Also underway is a riverfront environmental education center and pavilion in Beacon, NY. To its residential projects around the country, ARO has added R-House, an affordable, ultra-efficient housing prototype now under construction in Syracuse, NY.
With Guy Nordenson Associates and Catherine Seavitt Studio, Architecture Research Office was a member of the original 2007-2009 Latrobe Prize Fellowship team that created On the Water: Palisade Bay, the study that is the basis for Rising Currents: Projects for New York's Waterfront.
dlandstudio Firm Profile
Susannah Drake developed dlandstudio out of a desire to create landscapes that are culturally inspired, ecologically sensitive, and rigorously constructed. This design approach celebrates the capacity of landscape to move beyond the aesthetic and be economically, ecologically, and socially productive. The landscape itself is envisioned as living infrastructure for managing multiple resource flows and human needs.
dlandstudio is a multidisciplinary design firm that includes landscape architects, urban designers, architects, and scientists. Among the firm's recent public projects are the Gowanus Canal Sponge ParkTM, a public open space system designed to absorb and remediate urban storm water, the Brooklyn Bridge Pop-up Park, a temporary waterfront open space that attracted almost two hundred thousand visitors over thirteen weeks of operation in 2008, and the security for the New York City Police Department headquarters in Lower Manhattan. dlandstudio's current international work includes the Raising Malawi Academy for Girls outside of Lilongwe, Malawi, and the design of a 1,200-acre public park and resort development in Abuja, Nigeria. The firm's work has recently been featured in The New York Times, New York Magazine, Topos, Landscape Architecture China, Metropolitan Homes, Oculus Magazine, and Architectural Record.
dlandstudio is the recipient of numerous awards from the American Institute of Architects and American Society of Landscape Architects. Among the firm's other distinctions are an American Architecture Award from the Chicago Athenaeum, the Boston Society of Architects, Urban Regeneration Award, Brooklyn Bridge Park Conservancy's Emily Roebling Award, an honorable mention in the Green Dot Awards Service Category, and multiple grants from the New York State Council on the Arts. Most recently, dlandstudio was named a Finalist in the Architectural League of New York's Emerging Voices lecture series.
Team Bios
Stephen Cassell, AIA (Team Leader, ARO)
Stephen Cassell received his undergraduate degree in architecture from Princeton University and his M. Arch from the Harvard Graduate School of Design. He has taught at Harvard, Princeton, Syracuse, MIT, and Berkeley. Recent projects under Stephen's direction include Union Square Park's North End Expansion, the strategic framework for Lower Manhattan's Greenwich South neighborhood created with the Alliance for Downtown New York, and a major project at Brooklyn Botanic Garden. In 2008, Stephen was a member of the New York City Green Codes Task Force for Climate Adaptation. He is currently a Trustee of the Van Alen Institute.
Adam Yarinsky, FAIA (Team Leader, ARO)
Adam Yarinsky holds an undergraduate degree in Architecture from the University of Virginia and a M. Arch from Princeton University. He has taught at Harvard, Princeton, Yale, Parsons The New School for Design, University of Virginia, University of Michigan, and Washington University in St Louis. Recent projects under Adam's direction include the Donald Judd Home + Studio Museum, New York University's Institute of Fine Arts, Princeton School of Architecture, and two amenity floors in the new Manhattan headquarters tower for a global financial services firm. In October 2009, Adam was among thirty invited speakers in the Future of Design Conference at the University of Michigan. He is the co-author, with Guy Nordenson and Catherine Seavitt, of On the Water: Palisade Bay (MoMA/Hatje Cantz Verlag, 2010), the study that is the basis for Rising Currents: Projects for New York's Waterfront.
Susannah C. Drake (Team Leader, dlandstudio)
Susannah C. Drake received her Bachelor of Arts degree in Art History and Fine Arts from Dartmouth College and her M. Arch and MLA degrees from the Harvard Graduate School of Design in 1995. She is an adjunct professor of Landscape Architecture at the City College of New York and Design Critic in Landscape Architecture at the Harvard University Graduate School of Design. She is a frequent lecturer on the relationship between ecological and infrastructure systems in the urban realm including the infrastruktururbanismus symposium in Munich, Germany. Susannah is the recipient of grants from the Graham Foundation, The James Marston Fitch Foundation, and the New York State Council on the Arts, for research on campus landscapes and large scale urban infrastructure projects. She was recently featured as one of the top female landscape architects in the world by Landscape Architecture China.
Susannah is a Trustee of The New York ASLA, a director of the Fine Arts Federation, a campus design advisory board member at Dartmouth College, a Trustee of the Van Alen Institute, and she is on the Directors Council of New Yorkers for Parks. Ms. Drake is a Registered Landscape Architect and a Registered Architect with almost twenty years of experience in landscape, architectural, and planning projects in the public and private realm at scales ranging from urban ecological master plans to private residences.
Michael Jejon Yeung (Team Member, ARO)
Michael Jejon Yeung earned his undergraduate degree from Carleton University in Canada and a M. Arch from Yale University. Jejon has served as project designer for ARO's vision for Lower Manhattan in On the Water: Palisade Bay. He has also served as project designer for the Donald Judd Home + Studio, the Beacon Education Center and Pavilion, the Hudson Yards Tower, and Thunder Academy Student Dormitory. He recently coordinated the construction of an outdoor exhibit of ARO's Greenwich South Strategic Framework in Zuccotti Park, adjacent to the World Trade Center site.
Lauren E. Barry (Team Member, dlandstudio)
Lauren E. Barry earned a Master of Landscape Architecture degree as well as a Bachelor of Science Degree in Astronomy and a Bachelor of Arts degree in Physics from the University of Arizona. While at the University of Arizona, Lauren focused her studies on sustainable design with a strong emphasis on water-related issues, and received an Award of Excellence from the Arizona ASLA for the analysis, planning, and redesign of the iconic Biosphere 2 campus located in Oracle, Arizona. As a landscape architect at dlandstudio, Lauren's science background drives her to bring an analytical and imaginative approach to projects including the Gowanus Canal Sponge Park, Raising Malawi Academy for Girls, and the SUNY Purchase Green Roof. Prior to joining dlandstudio, Lauren worked for the U.S. Geological Survey Arizona Water Science Center on land-subsidence and groundwater storage monitoring projects.
Yong K. Kim (Team Member, dlandstudio)
Yong K. Kim received his B. Arch and BFA degrees from Rhode Island School of Design, his MAUD degree from the Harvard University Graduate School of Design, and studied architecture as a guest student at the Swiss Federal Institute of Technology in Zurich, Switzerland. His projects with dlandstudio include Gowanus Canal Sponge Park and Downtown Brooklyn Urban Design and Streetscape. Yong's design experience includes participation in design teams of residential and institutional projects including Kidspace Children's Museum, Fresno Metropolitan Museum, University of Notre Dame DeBartolo Performing Arts Center, and the winning entry for the master plan of Giardini Di Porta Nuova competition in Milan, Italy.
Neil Patel (Team Member, ARO)
Neil Patel earned a B. Arch degree from University of Texas at Austin. He has participated in numerous recent ARO projects, including Taconic Capital Advisors Office, R-House, the Schine Student Center Feasibility Study, and Five Principles for Greenwich South.
Elliott Landry Smith (Team Member, dlandstudio)
Elliott Landry Smith received his Bachelor of Arts degree with high honors from Princeton University and his M. Arch from the Princeton University Graduate School of Architecture, where he was awarded both the Butler Traveling Fellowship and the Suzanne Kolarik Underwood Prize for his thesis work on Les Halles in Paris. Elliott has practiced in several New York offices including Architecture Research Office, Scott Abrahams RA, and Guy Nordenson and Associates. Recently he has completed designs for several independent projects including the M-House in Portland, Oregon, a project that explored the technique of splicing to enmesh inside and outside spaces. Elliott has served as Assistant Instructor in both the departments of Art History and Architecture at Princeton University. Currently he is an Adjunct Professor in Architecture at the University at Buffalo where his independent work on a vertical park focuses on concepts of natural metaphor and monumental iconography in relation to scenic and urban environments.
Leah Kiren Solk (Team Member, dlandstudio)
Leah Kiren Solk graduated from Wellesley College in 2003 with a Bachelor of Arts Degree in Economics and Studio Art. In 2009, she received an M. Arch degree from the Harvard University Graduate School of Design. She spent several years working as an economic analyst for the Federal Reserve forecasting construction and investment output for the FOMC (Federal Open Market Committee) and Chairman Greenspan. While pursuing her M. Arch degree, Leah worked with local government and non-profit organizations in New Orleans to rebuild homes, schools, and parks with sustainable solutions. Her thesis research focused on the social failures that hindered urban recovery in the aftermath of Hurricane Katrina.
Darina Zlateva (Team Member, ARO)
Darina Zlateva received her M.Arch from Harvard Graduate School of Design and her B.A. from Dartmouth College. Prior to joining ARO, she worked in the offices of Morphosis Architects and KPF London's Computation Geometry Group. Darina was a finalist in the WPA 2.0: Working Public Architecture Competition, and most recently worked with Stan Allen on an animation for the Taichung Master Plan.
Special Thanks
Architecture Research Office and dlandstudio would like to express their gratitude to the volunteers who supported Team 0 with their intelligence, enthusiasm, and hard work. They are David Anderson, Taryn Harunah, Kara Lanahan, Erica Layton, Ken Missbrenner, Charles C.W. Smith, and Michael Yarinsky.